 Let's set the scene...
We've all seen the news and we all know we need to do our bit to stop the earth's temperature rising.
Food production is one of the largest contributors to carbon emissions globally. In a world with lots of confusing messages on how you can make a difference, it got us thinking… How do we, as a business make it easier for you, our Mindful Chefs, to make an informed choice and take control of your carbon footprint?
So we became the first recipe box company to launch a low carbon range.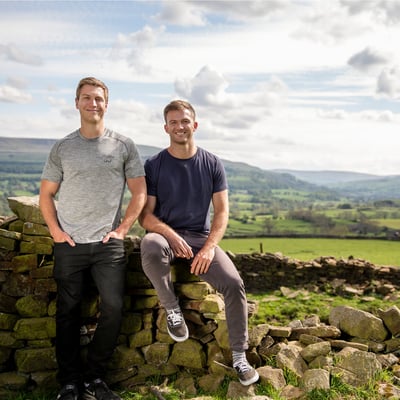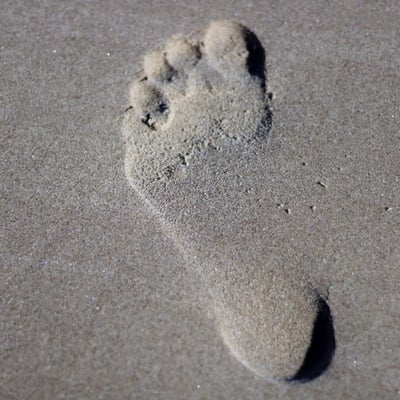 What is a carbon footprint?
A carbon footprint is the total amount of greenhouse gases generated by our actions. It takes into account all the carbon that's released into the world's atmosphere: starting with the tractor that pulls potatoes from the earth and the fishing boat catching the sustainable cod for your fish pie.
More carbon gets produced from the packaging your food goes in, then even more how your food gets to you. Add in more carbon from storing it in the fridge or freezer, the carbon produced when you cook it, and carbon from what you pop in the bin.
The sad fact is: food production and food waste are big carbon culprits. So we set out to make a difference by carbon labelling our recipes.
What is carbon labelling?
What if the next meal you ate was not only good for you but kinder to the planet?
When it comes to helping you cut your personal carbon footprint, we wanted to go even further.
Now, you've got the tools you need to make more informed choices on the food you eat as part of a balanced box.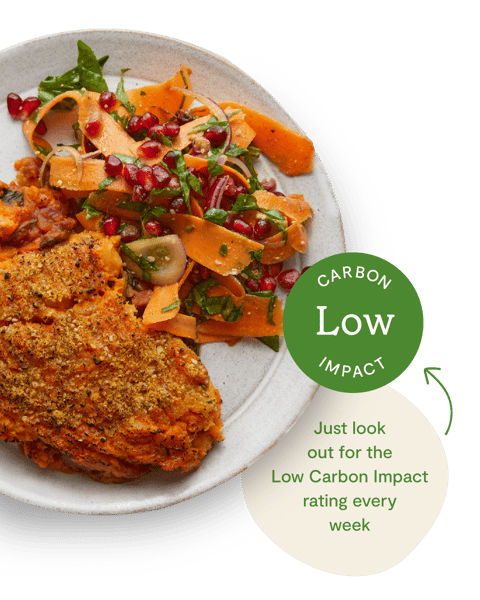 The low carbon range
Our goal is to have as many recipes in our Low Carbon range as possible.
Every recipe you see with this green label is low carbon, which means it's generating less than 1.6kg CO2e, in line with the WWF's target of reducing diet-related emissions. It's not rocket science, but we're committed to getting it right.
This means every time you choose one, you're taking a step in the right direction to help lower the earth's temperature. We'll get the best plates out for that.
Our process
We did a Life Cycle Assessment across the whole of Mindful Chef (and beyond) with the brilliant brains at ClimatePartner to measure GHG (greenhouse gas emissions) generated from our recipes and get to their C02e (carbon footprint)
We looked at absolutely everything that goes into growing, delivering, storing and cooking and disposing our food; from field to fork, and beyond.
For more information on our methodology, click here.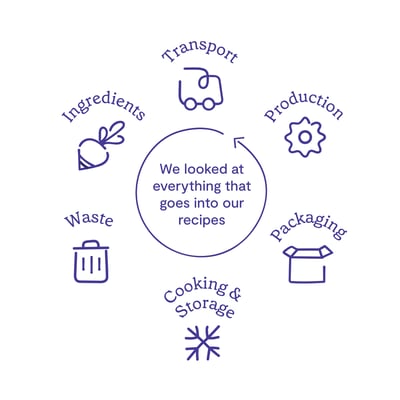 The big picture
We need to control global warming and The Paris Climate Agreement has set out international targets on reducing global C02.
The average person's diet-related carbon footprint is 5.17kg C02 per day and the WWF say we need to reduce this to 4.09 C02 per day by 2030.
All of our low carbon recipes are below 1.6kg C02e which is inline with the WWF's target of reducing dietary related emissions.
We know it can be a bit scientific so if you're craving more data, check out ClimatePartner's website here, or visit WWF's food in a warming world report.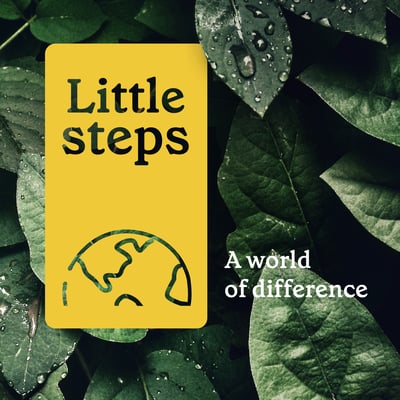 It's part of our DNA
As a brand, our values are to be Unafraid, Mindful and Personal. It's part of our DNA to challenge conventions, to think differently and be imaginative in how we solve problems.
As a business, we've always been original. The first healthy recipe box company. The first sustainable, ethical choice.
We were even the first B Corp.
So we're really chuffed to be the first recipe box company in the UK to launch a Low Carbon Range.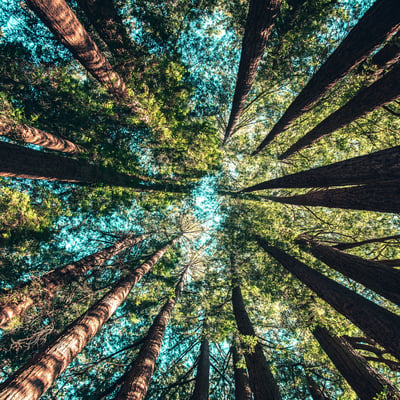 Another positive step towards Net Zero.